"Cold water immersion – treatment and practicalities in the field" by Dr. Patrick Buck
Treating a drowning or hypothermic casualty in the field presents a number of challenges for a first responder.  Psychological stressors, lack of equipment, unfamiliar terrain and perhaps hostile conditions can combine to make the task formidable.
When someone falls into cold water Four things happen over time.  Firstly they will experience a level of
Cold Shock
which usually lasts between 1 – 3 minutes (Stage 1), followed by
Cold Incapacitation
, which sets in at around 15 minutes (Stage 2) and then
Hypothermia
which may take 30 – 60 minutes to develop (Stage 3).  The rate at which hypothermia develops is related to several factors including body composition, clothing at time of immersion, atmospheric conditions, water state and water temperature.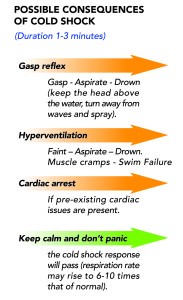 .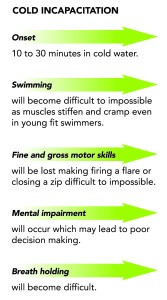 Finally
some level of
Post Rescue Collapse
will occur (Stage 4).  This is of course providing that the casualty has not already drowned through swim failure.  Without a Personal Floatation Device (PFD), many people in cold water will drown prior to becoming hypothermic because as their muscles stiffen and cramp, it will get progressively more difficult for them to keep their airway from becoming compromised.
Post Rescue Collapse, also known as Circum Rescue Collapse or Peri Rescue Collapse, can be, and often is, fatal.   An estimated 20% of conscious and viable hypothermic casualties recovered from cold water die as a consequence of Post Rescue Collapse either before, during or after rescue.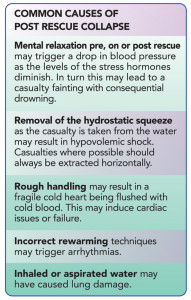 The
primary goal
for a First Responder when treating a hypothermic casualty in a pre hospital setting is to try and
prevent further heat loss
(core body temperature (CBT) drop).  In addition as a
'cold heart is a fragile heart'
, every effort should be made to treat the casualty as gently as possible and to avoid any rough handling.  Ventricular fibrillation is a very real possibility in a hypothermic casualty and in many cases will prove fatal if initiated through incorrect handling or improper rewarming strategies.
As most First Responders are unable in a field setting, due to lack of appropriate equipment, to determine a casualty's CBT, all obviously hypothermic casualties should be considered as serious until proven otherwise.  As a consequence a casualty should not assist in their rescue nor be encouraged to partake in their treatment, like removing their own wet clothes.
Clinical signs can provide an indication of the casualty's level of hypothermia, which may in turn assist in their management.
If a casualty is shivering but is mentally and physically alert and is acting normally then they are most likely just cold or very mildly hypothermic.
If a suspected hypothermic casualty is conscious and shivering then their CBT is most likely at or above 32°C.
If a conscious casualty who is obviously hypothermic but is not shivering then their CBT is probably in the region of 30°C-32°C. Note not everyone shivers.
If paradoxical undressing occurs then the casualty probably has a CBT between 30°C -32°C.
If a suspected hypothermic casualty is unconscious then their CBT is most likely below 30°C. Of course they may have sustained other injuries or have drowned.
Casualty rewarming strategies, where possible, should be initiated in the field.
Rewarming can be achieved using a number of different strategies depending on casualty presentation.
Passive external rewarming.
Active external rewarming.
Active internal rewarming.
A hypothermic casualty with a CBT above 32°C can be treated with insulated blankets, dry clothing, burrito wrapping and warm sweet drinks.  They will be able to rewarm spontaneously.
A hypothermic casualty with a CBT below 32°C will require active rewarming management.  These casualty's cannot rewarm spontaneously and will require the addition of heat.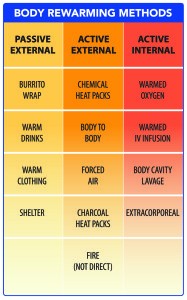 In conclusion it must be stressed that every case should be managed on a casualty by casualty basis.  In addition a casualty's treatment must not compromise other members of the party or group.  Multiple casualties present a much more significant challenge for a First Responder in a pre hospital setting.
Finally a Hypothermic Casualty Is Never Dead Until They Are Warm And Dead Unless Patently Dead.